How a local community on Ireland's east coast came together to take care of a little seal pup in trouble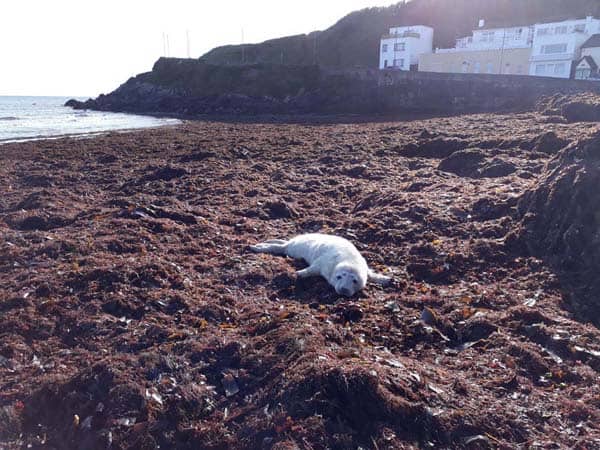 Marine Dimensions was delighted to coordinate the team of volunteers who watched over the seal pup on Bray Beach earlier this month.
When local residents happened upon the young Grey Seal (Halichoerus grypus) in early October, we did not consider that it would have much chance of survival. The pup's mother had given birth on one of Ireland's busiest beaches amidst Storm Lorenzo, and the threat from human disturbance was high.
There was the risk that a dog off leash might injure the pup, or that the mother might abandon it if she was scared by overly zealous selfie takers. Even if the mother had the courage to haul out on the busy beach in order to suckle her babe, she might not be brave enough to hang around for extended feeds. Grey seal pups must put on about 2kg per day while they are being weaned by their mothers in order for them to survive at sea.
However, the local community in Bray went above and beyond to make this a good news story and it wasn't long before local residents came up with a plan. A team of volunteers who were happy to watch over the pup was quickly recruited and the Bray Seal Pup Rescue Project (aka Pup Watch) was immediately put into action!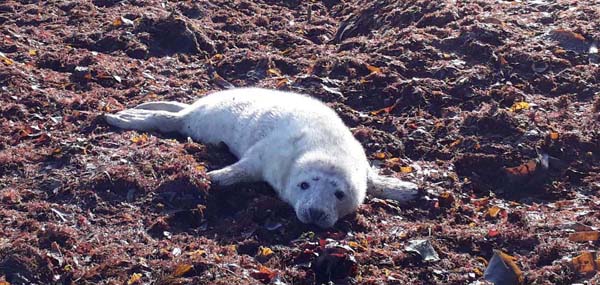 The passionate group of carers watched over the pupping site around the clock, making sure to inform dog walkers and visitors to the area of the risks to the pup's safety. It would be the team's dedication, and the public's understanding and consideration, that would ultimately allow the mother to provide the pup with the 5 or 6 daily feeds that it needed in order to survive.
During the course of the watch on week 1, volunteers observed feed times ranging from as little as 2 minutes during peak visitor times when disturbance was high, to extended periods of up to 20 minutes when the seafront was quieter. Both mother and babe were also seen to engage in bonding behaviour during quieter times when they enjoyed some quality time together on shore.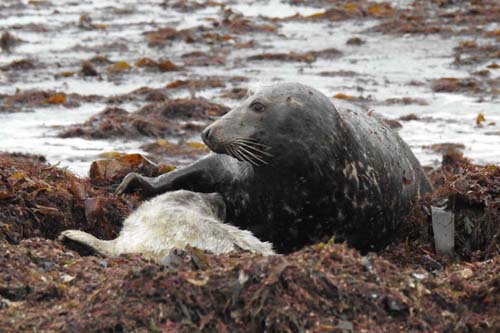 By the end of the first week, our team was starting to feel more positive about the pup's chances of survival. The seal pup appeared to have put on considerable weight, in spite of reduced feed times observed during periods of disturbance, and support for the nursery project was growing. With more and more volunteers signing up to join the watch, clearly there was no shortage of good will and desire to get this adorable pair back to sea safely.
However, as our team geared up for a second week on the watch, we were still very much aware of the risks and difficulties associated with managing a project that relied very much on public good will and support. We also knew that we may need to continue running the watch for potentially another two weeks until the seal pup was ready to enter the water with its mother.
Then, on the morning of the eighth day and rather unexpectedly, the volunteers on watch duty contacted HQ with news of some unusual behaviour. Much to everyone's delight, the crew reported watching the seal Mum coaxing the pup into the sea for its very first swim. The little grey seal pup was a great swimmer by all accounts, and after a bit of practice in the shallows, the pair were seen heading off out to sea!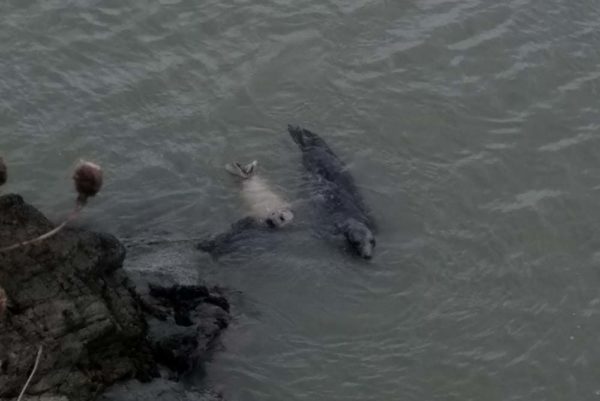 Much of the published literature states that Grey Seal pups must wait until they shed their white lanugo coat before they can enter the sea. However, in this instance that clearly wasn't the case, and although it may be unusual for a pup to be seen swimming with its white fur coat in Ireland, there are some studies that have reported pups with more adventurous personalities taking to the sea early in Norway.
It was quite clear to our team that both Mum and pup were brave and adventurous individuals, especially considering the disturbance that both seals endured over the course of the watch. It also seemed likely that Mama seal may have decided to move her family a little earlier than planned in an effort to find a quieter and safer location.
And so on Tuesday, 8th October, we were delighted to announce that the adorable pair had now moved on and that the rescue mission had been successful!
There is no doubt that this positive outcome was achieved through the incredible effort put in by the local community and we'd like to thank everyone involved:
Numerous local residents and community groups responded immediately and were very active throughout the week, including the North Wicklow Environmental Network, SMARTlab, Bray Coastcare Group, Common Ground, Bray Tidy Towns, 5th Wicklow Bray Sea Scouts, Bray Sailing Club, Wild Wicklow, Wild Bray, Kildare Animal Foundation and the Selkie Watch Team from Scoil Chualann Rang 4. Seal Rescue Ireland also provided a very valuable support service, especially providing peace of mind in the event that the pup was injured or abandoned.
We'd especially like to thank Wicklow County Council for effectively managing what was a very difficult and unusual event, as well as An Garda Siochana who provided 24 hour support and assistance at the site.
We are also so grateful to local residents who patiently endured considerable disruption throughout the week with increased attention and publicity surrounding the area.
Our team was made up of a group of compassionate people who empathized with a Mum battling against all the odds to take care of her pup in difficult circumstances. Thanks again to everyone who identified with this situation. The result has been a truly positive story for the people of Bray and the marine environment.