We're very excited to be now offering our popular Marine Biology for Teens course online!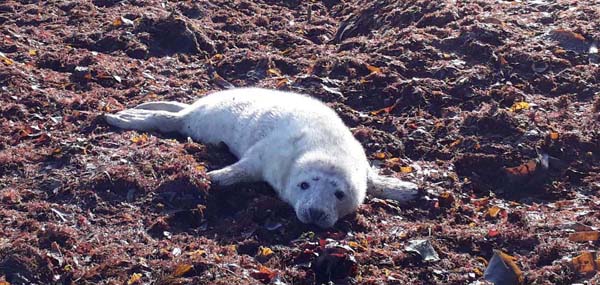 Whether you are a young person considering a career in marine biology, or a secondary level student who'd just like to know more about our fascinating marine wildlife, this course promises to be a great introduction. Run over the course of five half days, the programme covers a wide range of marine topics, including practical hands on demonstrations of techniques regularly used by marine biologists, eg. survey skills, fish dissections etc. The live online event also includes our popular mobile aquaria, giving students a chance to engage with live animals on camera.
This unique course is available to students through our Ocean School and as a private option for secondary schools.
The course includes:
• Our Introduction to Marine Biology lecture series and live course video lessons, including stunning images of Ireland's marine life.
• Instruction by a qualified and experienced marine biologist, including career advice for students wishing to pursue marine biology as a career.
• An opportunity to see marine animals up close live on camera, including anemones, crabs and sea snails.
• A fun virtual trip to the seashore (weather permitting), including a lesson on how to identify animals and plants that typify our coasts.
• Participation in our marine conservation and citizen science projects, eg. The Purse Search Shark and Ray Eggcase Sightings Scheme.
• A digital course resource page including lecture notes, video resources and useful links for follow up work.
• Health and safety as a priority; our team are Garda Vetted and trained according to our Child Protection Policy. We also follow strict protocols in relation to animal welfare.
• A digital Certificate of Course Completion.
The workshop is suitable for:
Age: 12-18 yrs. Secondary or high school level students around the world who are keen to learn about our planet's incredible marine life, especially those with an interest in pursuing marine biology as a career. (12 year old students should have completed their primary level education).
Workshop logistics
The classes are run live online through Zoom, so students need to attend with a device that has access to the internet (you will receive login details following registration). If possible, we recommend that the video option on the device be turned on to allow for a more interactive learning experience.
We also suggest (although not essential) that you purchase a copy of the following publications as a learning resource for the course:
Great British Marine Animals, by Paul Naylor,
The Rocky Shore Name Trail, by Ward, Simms, Cremon and Ward. Published by the Field Studies Council.
The next 2021 course class schedule is as follows:
26th October, 10am – 12pm,
27th October, 10am – 12pm,
28th October, 10am – 12pm,
29th October, 10am – 1pm,
30th October, 10am – 1pm.
Please note that times are given in GMT since we are based on Ireland's east coast. The dates and times are also set to coincide with the secondary school Halloween break in Ireland.
Testimonials
Check out some of the testimonials left by students who have attended the course:
Fantastic course, really enjoyed it! Hope to do another soon and helped confirm that I want to do Marine Biology when choosing a college course.

Anna
The course was thorough and engaging. Well done to all who worked on the project. My son delighted in attending every day and you have animated the learning in such a fantastic, intriguing way!

John
I really enjoyed this course, it was brilliant. I would definitely recommend doing this course to anyone who likes marine biology, even if you don't think you'll pursue a career in it. The knowledge that you gain will be useful the next time you visit the beach!

Stella
Find out more or make a booking here