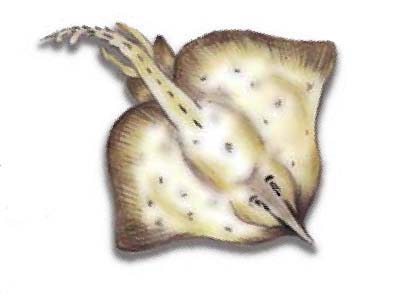 Fast Facts
Scientific Name: Rostroraja alba
Gaelic Name: Scalaphort ban
Conservation status: Classified as critically endangered in Europe by the World Conservation Union and protected under EU law since 2009.
Range: Although at its northernmost limit in the English Channel, it is more likely to be found (although still extremely rare) off the south west coasts of Ireland and England.
Habitat: It may be caught on the same grounds as the Common Skate and it is possible that it has been wrongly identified as this species.
Lifespan: Unknown.
Diet: Fish, crustaceans and cephalopods.
Predators: Seals, humans.
Reproduction: Females lay eggs throughout the year with a 15 month incubation period.
The White Skate produces very large eggs that are protected in a sturdy capsule called a mermaid's purse. The capsules are at least 13 cm long!