The number one resource that we recommend through our work are field guides that we use for identifying shells and animals on seashore excursions. There are lots of guides out there to choose from but you will need to find a guide or species identification key that is right for you.
You'll need to consider the following:
your geographical region,
your level,
likely wear and tear on the guide (will it be being used outdoors or just as a reference resource in your library?),
and of course your budget.
We have listed some of the various resources available with the above in mind so that you can download or purchase the guide that is right for you. We'll also be adding more publications to this page as we discover more useful resources for countries around the world.
In the meantime and if you haven't already done so, check out our Beachcomber's Guide to Shells and other Wildlife Found on the Seashore. It provides an introduction to animals and plants commonly washed up on beaches around the world. You can also find some free guides for identifying shark and ray eggcases in our article on How to Identify a Mermaid's Purse.
Seashore Identification Charts and Guides for Europe
North West Europe
There are a number of free downloadable resources that you can avail of if beachcombing in Ireland or Britain: Coast Monkey's Seashells of the Irish Coast describes 10 common species that you may find on sandy shores, while the Dublin Bay Biosphere Seashells chart, produced by Coastwatch and Dublin City Council, lists 41 species that you may find on sandy shores around Ireland's coasts.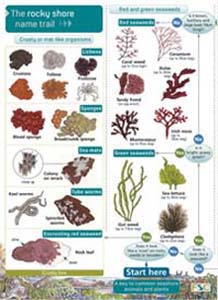 If you'd like to take a guide with you outdoors while beachcombing or rockpooling in Britain or Ireland, we recommend purchasing the Field Study Council's Rocky Shore Name Trail- Field Guide and Identification Key. We've used this guide for over 15 years now on our field trips with schools and community groups and we've always found it to be a great resource. It's basically an 8 panel fold out chart designed to help you identify some of the most common seashore animals and seaweeds that you might find on the rocky shore.
We find that the laminated waterproof version works really well as a resource for the outdoor classroom and then once we're back indoors we refer to books that we don't want to get damaged.
One of our favourite books is Sherkin Island Marine Centre's Beginner's Guide to Ireland's Seashore. This small pocket sized guide serves as an introductory guide to the seashore for a range of levels, including children (aged 8+ yrs), teens and adults. It's also worth checking out Sherkin Island Marine Centre's other publications if you're interested in marine conservation and awareness. This independent marine education and research station was established back in the 70's and their director Matt Murphy is a bit of a legend as an advocate for the marine environment in Ireland.
We also frequently use Gibson, Hextall and Rogers' Photographic Guide to the Sea and Shore Life of Britain and North-west Europe as a reference for identifying less common species on the shoreline. Experienced beachcombers will find this guide to be invaluable when identifying animals on the shoreline in North West Europe.
Seashore Identification charts and guides for North America
USA and Canada – Northwest Pacific coastline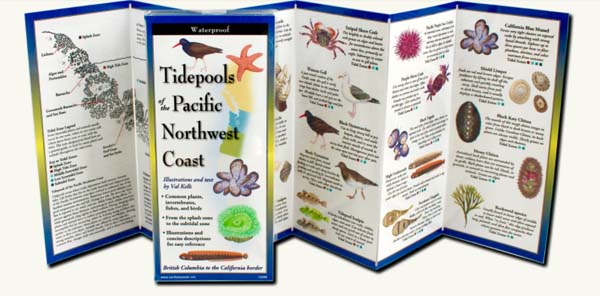 If you're looking for some waterproof field guides to take with you while out beachcombing or tidepooling along the great Northwest Pacific coastline, check out the Earth Sky + Water series. They do a series of some great laminated foldout guides which feature common species along the shoreline. Tidepools of the Pacific Northwest Coast covers cold water tidepools from the Oregon / Washington border up through British Columbia, while Tidepools of the California Coast covers the area further south from Santa Barbara to Oregon.  
For a more comprehensive field guide, check out The New Beachcomber's Guide to the Pacific Northwest.  This paperback provides detailed descriptions of creatures that you might encounter, as well as information on the best beachcombing sites along the Northwest Pacific coastline and when to visit them. A great option for planning your trip to the seashore as well as a nice reference guide for your library.