We're very excited to be reaching out around the world with our new virtual Marine Experience!
The Marine Experience is an exciting workshop which is designed to introduce all age groups to the wonders of our marine world. The live online event includes our popular travelling aquaria, giving people a chance to engage with live sea creatures! The session also features an interactive display with authentic marine exhibits, bringing Ireland's fascinating underwater world into your world. Props range from seashells and lobster claws to shark eggcases and whale bones!
The workshop also includes:
A qualified, experienced marine biologist to ensure the best possible learning experience for your group.

An engaging lesson on living things in Ireland's seas and oceans, with emphasis on local marine wildlife.

An interactive display with sea shells, whale bones and stunning images of Ireland's marine life.

A chance to see some of our live sea creatures up close on camera, including anemones, crabs and sea snails. We also frequently feature surprise guests (check with our team to see which animals are available)!

Participation in our marine conservation and citizen science projects, eg. our Purse Search Shark and Ray Eggcase Sightings Scheme.

Health and safety as a priority; our team are Garda Vetted and trained according to our Child Protection Policy. We also follow strict protocols in relation to animal welfare.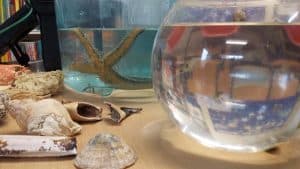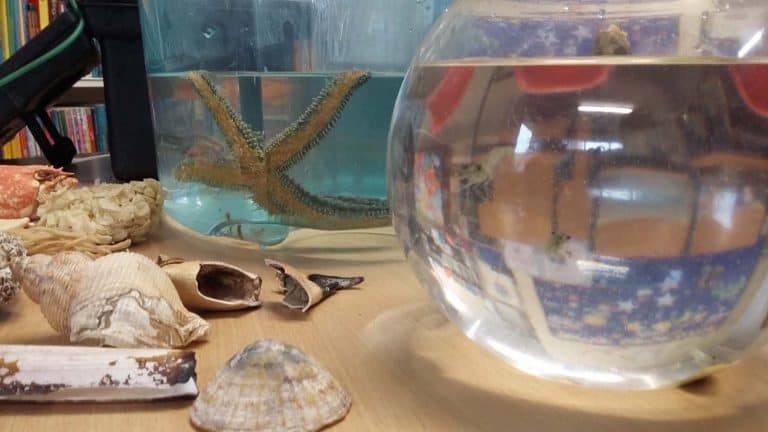 The workshop is suitable for:
Schools and community groups around the world who are keen to learn about our planet's incredible marine life, especially those with an interest in Ireland's seas and oceans.
This includes:
Primary level, eg. junior schools, home schools, Green schools, Eco schools. Age: 5-12 yrs.

Secondary level: high schools, Green schools, Eco schools. Age: 12-18 yrs.

Adult education and lifelong learning. Age: 18+ yrs.

Family groups, community events, clubs and societies, festivals, Blue Flag Beach education.
Workshop logistics
We can cater for up to 240 learners per day with a maximum of 60 attending a session through Zoom or Microsoft Teams, although we do recommend smaller class sizes (less than 30) to allow for question time and a more interactive learning experience.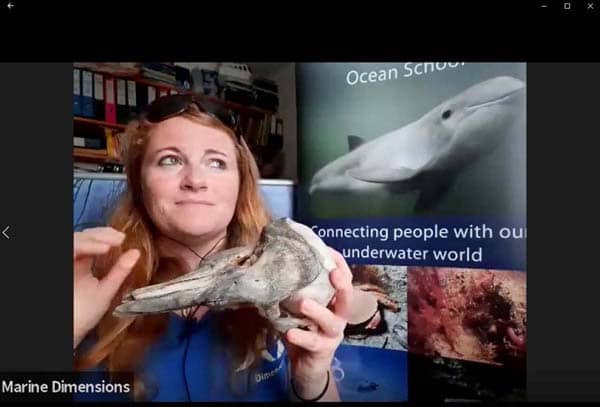 Testimonials
Check out some of the great testimonials left by members of the public who attended our Marine Experience pilot program over the summer:   
Really informative for my 6 year old son, was great to see the crabs and bones.  He also loved that he could ask questions and Sarah was very nice and friendly. Thanks.
We absolutely loved this. Having your own marine expert in your front room is so cool. Well done and thanks!
Very informative. Very engaging.
My 5 year old and I really enjoyed this workshop with Sarah and we learned loads from it. I'd highly recommend it for kids aged 5 and older. The crabs and whale bones were a big hit!
Great webinar – really child friendly & interactive- thanks so much- great learning & fun opportunity.
A fabulous session today. Well organised, interactive, local references, plenty of engagement. Appropriate language etc. A big thumbs up from this house.
Great workshop! Having done a live one and an online one, the online one works very well too! Thanks!
Very good and informative. Very patient with my chatty, inquisitive child. Would recommend.
The Marine Experience was also recently profiled by Ireland's Blue Flag Beach Programme as an example of best practice in marine environmental education!  Check out the article here.
To find out more or book a session:
If you have any questions or would like to book a workshop, please contact us here or email us at admin@marinedimensions.ie. We would love to hear from you.  You can also give us a call at +353 (01) 2828876.