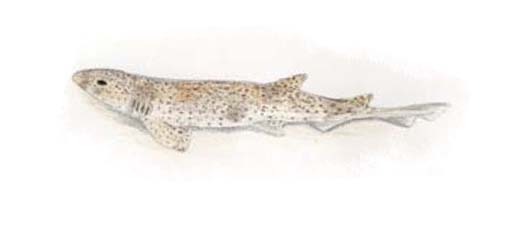 Small Spotted Catshark, Scyliorhinus canicula. Artwork: Sinead Begley
Fast Facts
Scientific Name: Scyliorhinus canicula
Gaelic Name: Fiogach Beag, freangach.
Other Names: Lesser Spotted Dogfish, Sandy Dogfish, Sandy Dog, Rock Salmon, Rough Hound.
Conservation status: One of the most common species of shark in Ireland and the north east Atlantic. Listed by the World Conservation Union (IUCN) as Least Concern globally.
Range: From West Africa to Norway throughout the north east and eastern central Atlantic. It is also found in the Mediterranean and Black Seas.
Habitat: Found over most types of ground, including muddy, sandy, gravel and rocky areas. Occurs in depths of up to 100 m in the north East Atlantic, 400 m in the Mediterranean and 780 m in the Eastern Ionian Sea.
Lifespan: 11 years for males, 12 years for females.
Diet: Small crustaceans, marine worms, sea cucumbers, molluscs and fish.
Predators: Seals, humans.
Reproduction: An egg-laying species of shark, with females laying up to 240 eggs per year. Egg laying may take place throughout the year, depending on location. Eggs are deposited in pairs and attached to seaweed or sponges on the seafloor. Pups hatch after 5-11 months (most after 8-9).
Small Spotted Catshark eggcases are frequently washed up on beaches around Ireland and Britain.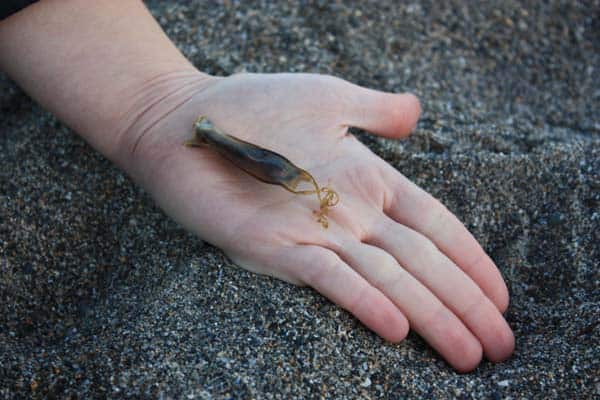 If you find one of these eggcases on the beach, please do report it to your local shark and ray sightings scheme.
FAQs
How did the Small Spotted Catshark get its name?
The Small Spotted Catshark gets its name from the small dark spots and blotches that cover its skin. It also belongs to a group of sharks, the Catsharks (Scyliorhinidae), that have cat-like eyes.
Are Small Spotted Catsharks carnivores?
Small Spotted Catsharks are carnivores which prey on small animals that live on and around the seafloor.
What do Small Spotted Catsharks eat?
Small Spotted Catsharks feed on all sorts of crabs, shrimp, molluscs, worms, fish and even sea cucumbers. When they are young they eat small crustaceans, but then when they get older they prefer to eat larger prey like hermit crabs, cockles and whelks.
Can you eat Lesser Spotted Dogfish?
Lesser Spotted Dogfish (also known as Small Spotted Catsharks) are edible and have been fished for centuries, although their meat is not considered to be high value. The meat may be sold by fishmongers as rock salmon. They are also frequently used as bait by lobster fishermen.