Fast Facts
Scientific Name: Raja undulata
Conservation status: Listed as endangered in Europe by the World Conservation Union and protected under EU law since 2009.
Range: The Undulate Ray ranges off the south coast of Ireland and England, although the majority of the Irish population resides in Tralee Bay.
Habitat: It is found over sandy ground in depths of up to 200m.
Lifespan: Thought to be over 20 years
Diet: Fish (especially flatfish), crustaceans and squid.
Predators: Seals, humans.
Reproduction: The female is ready to produce young after about 9 years whereas the male matures at about 8 years of age. Eggs are laid in sandy or muddy areas in late summer, with baby rays hatching after about 3 months.
Undulate and Spotted Ray eggcases can be difficult to tell apart, especially when they're the same size!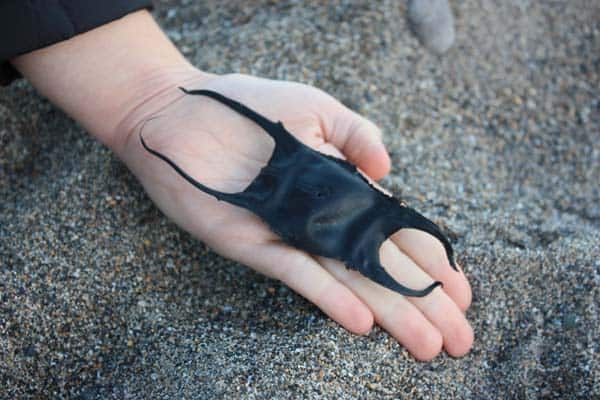 The Undulate Ray eggcase can be recognized by its lack of lateral keels, as well the bobsleigh shaped horns at the bottom end.
If you find one of these on these purses while beachcombing, please do report it to your local shark and ray sightings scheme.