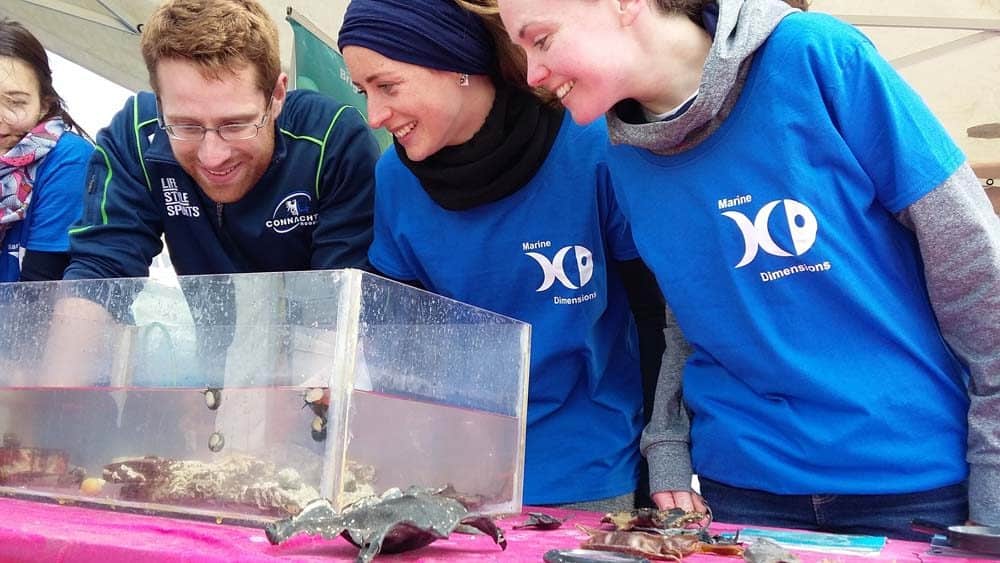 Marine Dimensions Internships and Volunteering positions are a fantastic way to gain valuable experience in an interesting and meaningful work environment. Our placements are ideal for graduates, or undergraduates, who are keen to pursue a career in environmental education, marine research or wildlife conservation.
What do we offer?
We value the energy and enthusiasm that our interns and volunteers bring to the workplace and we do our best to make the experience as rewarding and productive as possible.
We can offer the following:
• Experience working with the public, managing events and delivering an active education and outreach programme.
• Opportunities for developing and improving communications skills, including innovative techniques associated with the latest trends in digital media.
• Training and experience in marine and coastal wildlife identification skills, including survey techniques and database management.
• Your name on publications and reports associated with our education and research programmes.
• Training and experience in a busy office environment.
• A feel for what life is like working in an NGO environment.
What you should expect
You will need to consider the following if you are thinking about applying for a position with us:
• Our internship positions require more of a commitment than the part time conservation volunteering opportunities that we offer.  Internships generally run for a minimum of 10 weeks (approx. 35 hours/week); part time volunteering positions require a minimum commitment of 5 days (40 hours) per month over a period of 8-12 weeks.
• Our internships and outreach positions are currently unpaid (Marine Dimensions is a small non profit). You will also be expected to cover the cost of your own accommodation, including travel expenses, unless you are travelling with us around the country on roadshows.
• You may need to be available for evening and weekend events, eg. we regularly run wildlife workshops, marine biology courses and awareness days on Saturday or Sunday.
• You should be willing to travel (either with us from Bray in Co. Wicklow or independently) to events around the country, eg. in 2018 we will be running workshops in Wicklow, Dublin, Wexford, Kilkenny, Donegal, Limerick, Galway and Kerry.
• You will need to be able to work on your own initiative and as part of a team.
• You must be at least 16 years of age and be willing to be Garda Vetted.
Current opportunities
We are currently recruiting for the following internship and volunteering positions.  Each position runs for a period of 8-12 weeks through one of 3 seasonal terms, ie. either Spring, Summer or Autumn (we are currently recruiting for summer and autumn).  Applicants may apply for one or more terms:
Education and Research Assistant, internship:
Summer Term: 25th May – 19th August, 2018.  Position open.
Autumn Term:  17th September – 23rd November, 2018.  Position open.
Outreach Assistant, part time volunteering position:
Summer Term: 25th May – 19th August, 2018.  Position open.
Autumn Term:  17th September – 23rd November, 2018.  Position open.
For a full description of requirements, responsibilities and duties associated with the position, please email us at admin@marinedimensions.ie.
How to Apply
To apply for one of the positions, please send us your CV with a cover letter explaining why you feel you are suitable.  The deadline for submitting applications is 13th April, 2018.  Interviews will be held on 16th and 18th April in our offices in Bray, Co. Wicklow (or by Skype for candidates residing overseas).
Find out about more marine conservation volunteering opportunities around the world at marineconservationvolunteer.com!